KL type organosilicon compounds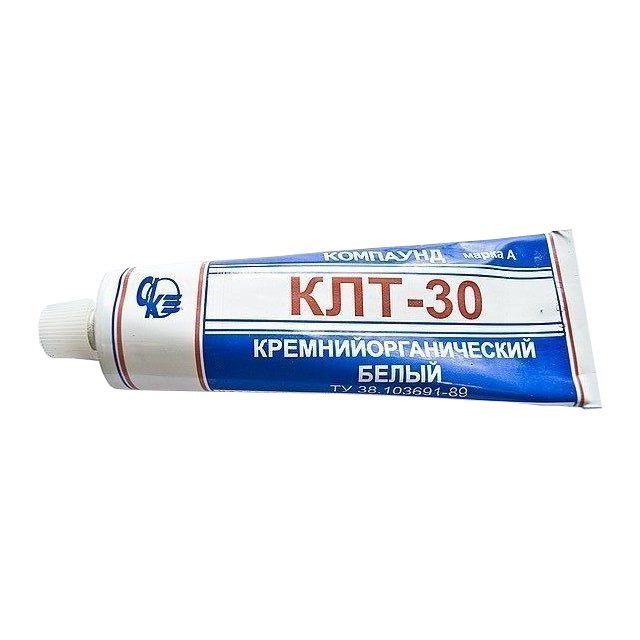 KL type organosilicon compounds are based on low molecular weight organosilicon rubbers and can cure at ambient temperature and form rubber-like materials. KL compounds are two-component materials consisting of the base and the catalyst, when mixed, the compound cures at room temperature within 24 hours. Working temperature range is from -60°C to +300°C (depending on the compound grade).
Order
Application
KL-4, KLF-20, KLT-30 compounds are designed for surface sealing of various equipment operating in air environment and its moisture protection, for surface sealing of devices operating in vibration conditions. They can be used for bonding of glass, plexiglass, ceramics and other silicate-based materials.
KLT-30 compound is also used for sealing of threaded connections of pipelines, internal cold and hot water supply systems and building heating systems.
KLT-75T compound is intended for sealing of assemblies in automotive, tractor, machine industries that operate in air, as well as for items in contact with diesel fuel, engine oil, water and hydraulic fluids.
KLSE compound is intended for sealing of electrical and magnetic devices operating in various climatic conditions at high air humidity, as well as for manufacture of elastic molds for plastic and plaster products.
Characteristics
Specification 38.103691-89
Technical characteristics
Parameters

KL-4

KLT-30

(single-component)

KLT-30

(two-component)

KLF-20

KLSE

KLT-75T

A

B

A

B

Temperature range

эксплуатации, °С

-60 to +300

-70 to +200

-55 to +250 (long term)

-55 to +300

(up to 500 h)

-55 to +250

(in air)

-55 to +200

(in fuel, machine oil, water and hydraulic fluids)

Relative viscosity, sec., maximum or within the range of

—

900

901-1500

900

600

—

Pot life, min, minimum:

— K-10s hardener

20

15

10

— K-1 catalyst

—

40

—

Nominal tensile strength, MPa, minimum

—

0.79

—

0.98

1.2

Elongation at break, %, minimum

—

120

—

80

120
Packing:
Single-component compounds KL-4, KLT-30, KLT-75T are packaged in aluminum tubes.
Paste of two-component compounds KLT-30, KLF-20, KLSE is packaged in metal or polymer containers, catalyst is packaged in glass bottles.
Guaranteed shelf life:
KL-4, KLF-20, KLT-30, KLSE compounds – 6 months,
KLT-75T compounds – 12 months.
Guarantee:
The product is manufactured according to the Specification. The product meets the stated information within the shelf life and subject to storage conditions.