VIKSINT U-4-21 organosilicon sealant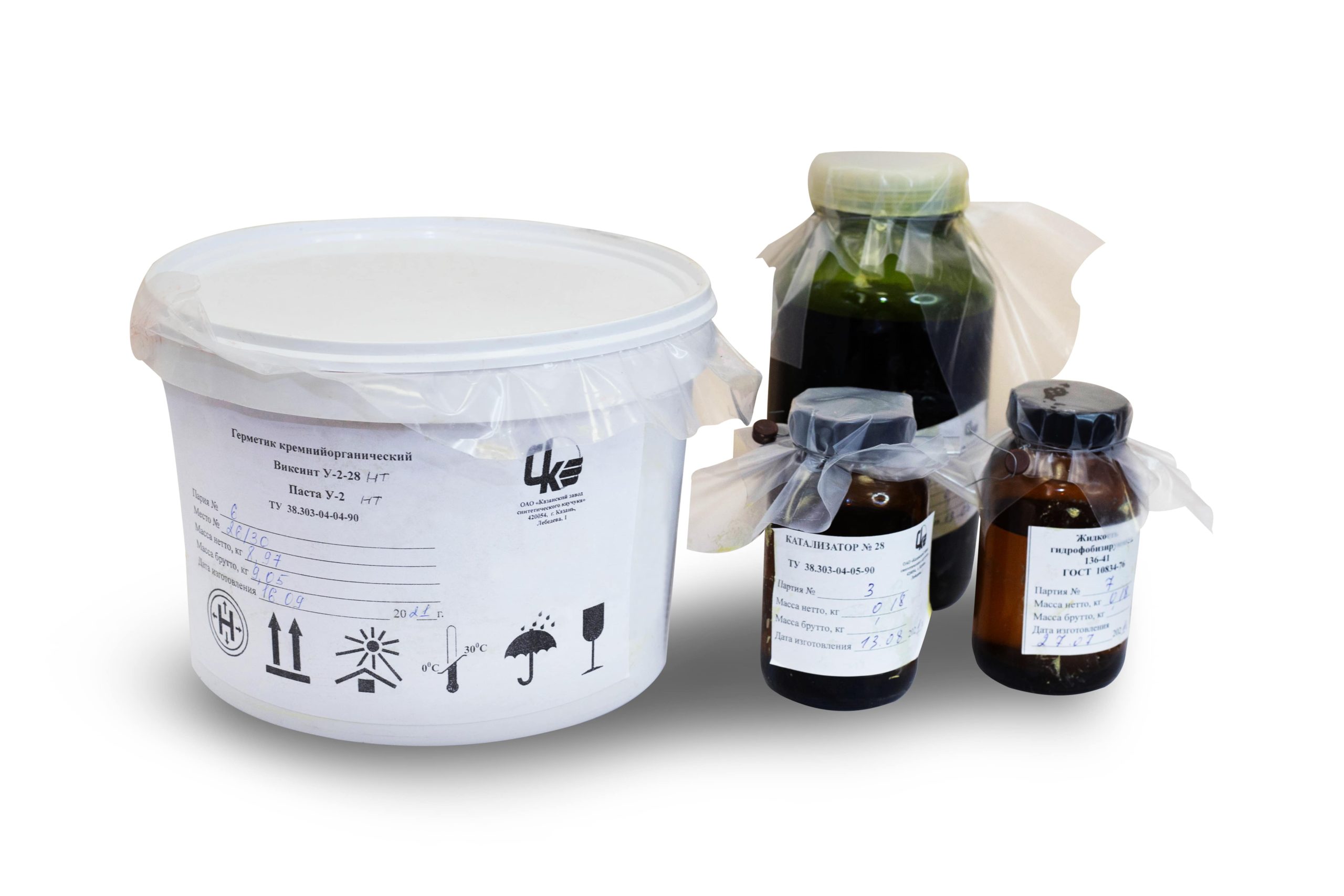 VIKSINT U-4-21 two-component sealant is produced on the basis of low molecular weight organosilicon rubbers. Two-component sealants are used with a sublayer that ensures adhesion of the sealant to the surface of the materials to be sealed. VIKSINT U-4-21 sealant is a white paste-like sealing material capable to transition from a viscous to a rubber-like state after mixing paste and catalyst components. The delivery package includes a P-11 sublayer to increase bonding strength of the sealant with the surface. After mixing the components, the sealant irreversibly transitions into a rubber-like material which is able to maintain elasticity in the air in the temperature range from minus 60 to 300 °C. VIKSINT U-4-21 sealant is designed for surface sealing of riveted, bolted and welded joints of structures and devices and for protection of electrical and radio devices operating in air environment in the temperature range from -60 to +300°C. It can be used at temperatures up to +250 °C in contact with aluminum alloy, stainless steel, cadmium plated and galvanized chromate passivated steel, as well as for potting plug connectors operating at temperatures from -60 to +100 °C. Due to its base, low molecular weight silicon rubber, VIKSINT U-4-21 has high heat and frost resistance, resistance to ozone, light, other aging factors, it features significant hydrophobic properties, dielectric properties, etc
Order
Application
VIKSINT U-4-21 sealant is designed for surface sealing of riveted, bolted and welded joints of structures and devices and for protection of electrical and radio devices operating in air environment in the temperature range from -60 to +300°C. It can be used at temperatures up to +250 °C in contact with aluminum alloy, stainless steel, cadmium plated and galvanized chromate passivated steel, as well as for potting plug connectors operating at temperatures from -60 to +100 °C.
Characteristics
Specification 38.303-04-04-90
Technical characteristics
Parameters

U-4-21

Density, g/cm3

1.35

Pot life, h, within the range of or minimum

0.5-6.0

Nominal tensile strength, MPa, minimum

1.5

Elongation at break, %, minimum or within the range of

100

Shore A hardness, units, within the range of or minimum

42-55

Bond strength when peeled from D16 aluminum alloy (material rupture or peeling in grid), kN/m, minimum

 

0.5
Packing:
Metal and/or polymer containers, catalyst – glass bottles
Guaranteed shelf life:
12 months.
Guarantee:
The product is manufactured according to the Specification. The product meets the stated information within the shelf life and subject to storage conditions.